DJ Yo-Yo Dieting -
Blest Witches Flexing
CD
(actual CD). Released by Permanent Marks LLC, the most focused YYD to date. 8 panel booklet + 2-sided tray card maxed out with full color art. Order from here or http://permanentmarks.com/ (if they ever actually put it up on their web page).
(click to enlarge)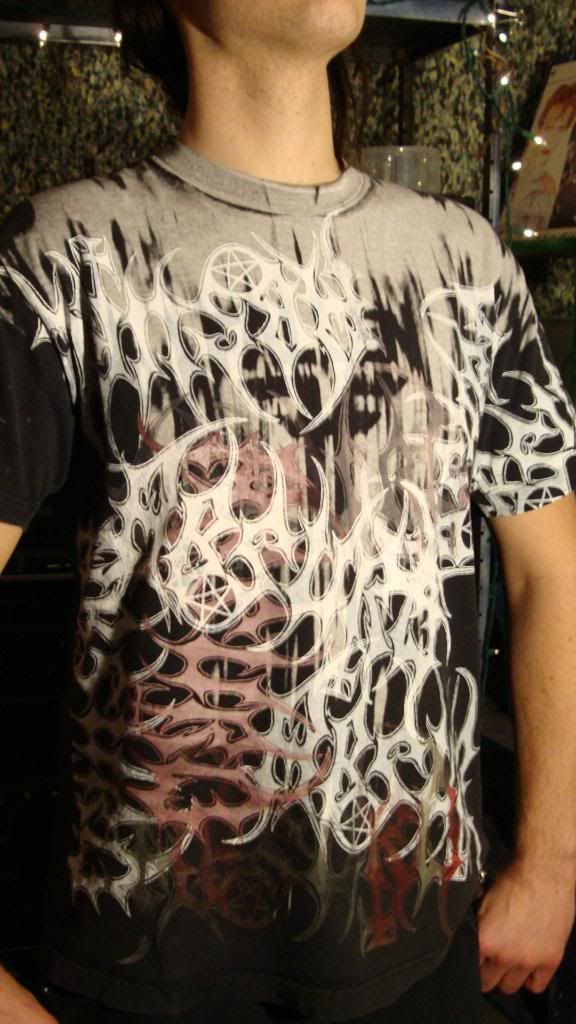 -- I've been making new shirts; they're all a little different... range in price from $10-$35 depending on how fancy you want them. I need to figure out some kind of effective shirt web catalog with pics of all available items, until then just bear with me and write me with what you had in mind an I'll see what I can do.
here's the list of items I still have copies of for sale as of 12/28/09-
DJ Yo-Yo Dieting - Regurgitation As Birth
Weak Sisters- Film c90
Fred Meyer w/ 40 c90
Sisprum Vish/Honed Bastion split 7″
Hammer of Hathor tape (25min on a c90)
Acnewinds Digest #2 loose-leaf zine in folder + tape $8
DJ Yo-Yo Dieting- Dormant Mirrors c88
DJ Yo-Yo Dieting- Unborn Faces Withering c40 (maybe 1 or 2 left somewhere in the house)
Pittman/Woolf/Maherr (FKA Portland Bike Ensemble)- The Herpes of Crafts c22
Haunted Castle/DeadWhite split c30
Sisprum Vish- Twizzlerr c30
Acnewinds Digest #1 11×17″ artb/w mag – $10
ususally fr domestic orders I charge $7 for the first item, and $5 each additional item. Outside the US must pay more postage, inquire via email. xprum.vx at gmail (but the paypal address is notactuallyglamorous at gmail). (unless otherwise noted next to the title).
on other labels-
Sisprum Vish tape + serious art envelope by Bennifer - $9
We tape on Together Tapes
Nazi Knife #4 - French art book, full color, excellent. features Dominick Fernow, CF, Mat Brinkman, Andy Bolus, John Olson, Carlos Gonzales, me, and a bunch of eurosluts. $20
Nazi Knife # 5 - same deal but way better + more - art by JONAS DELABORDE, HENDRIK HEGRAY, STEPHANE PRIGENT, ROOPE ERONEN, ANTOINE MARQUIS, JAMIE McNEILL, JOHN OLSON, CYRILLE LE VELY, CF, LEON SADLER, ROBERT BEATTY, RYAN RIEHLE, DAVID DOUARD, JULIEN CARREYN, SPENCER CLARK, LEIF GOLDBERG, ANDRES RAMIREZ, BENJAMIN BERGMAN, MAT BRINKMAN, HEATH MOERLAND, GARY BEAUVAIS, DEAN SULLIVAN, PAT MAHERR, ANDY BOLUS, MEHDI HERCBERG, YU MATSUOKA, LUDOVIC BOULARD, LE FUR, MIKE DIANA, ROMAIN PERROT, JACQUES NOEL, JEFF HARTFORD, JAMES FERRARO, ALIVIA ZIVICH, NATE YOUNG, MAX EISENBERG, EVA REVOX, CARLOS GONZALES. $26.
the Jellyfish Altar blog was kind enough to upload some high-quality mp3s of DJ Yo-Yo Dieting and Sisprum Vish tapes in their "October 2009″ section : http://jellyfishaltar.blogspot.com - please buy the tapes I still have even though they are free.